Customized business solutions for an SME in building materials
Customer: De Rycke
Expertise & industry: ERP, Software & application development for an SME in building materials
Technology: SAP Business One, LAN, Business Software
De Rycke Building Materials & Concrete attracts many different customers: both professionals and private persons can come to them for all possible building materials, concrete, wood and professional advice. They have an enormous stock, so that their customers can find all the materials they need under one roof.
De Rycke opted for the implementation of the full SAP Business One package. This provides the company with a powerful standard solution to support all of its core activities: financial management, inventory and production management, customer management, purchasing and reporting.
How does it work?
Axians' IBOMAT module is a template that fully adapts the SAP package to the needs of a trade SME in building materials. Typical buying and selling modalities for the construction industry have been seamlessly integrated and give the company a powerful digital backbone. After a few minor adjustments to the specific workflow, De Rycke was able to get started with its new ERP package.
One hiccup in the initial phase of using the software were the units in which the company offers its many products to customers. One product is delivered per bag, the other per kilo and another per piece. But thanks to a smooth cooperation with Axians, these issues were also quickly resolved.
As a one-stop-shop solution provider, Axians has also implemented the necessary servers and storage as part of this ERP project.
"An implementation is never completely finished for me. Our ERP package must evolve with the growth of our company. But I am convinced that we are well-set in that area with SAP Business One and the support of a good integration partner."
Jo De Rycke, Manager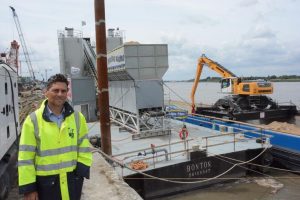 With SAP Business One, the team members at De Rycke have a system that seamlessly supports their day-to-day tasks. Everything now runs according to a fixed pattern, both at purchase and sales level. Every step is documented and that information is also mutually linked. This allows De Rycke to look up cases faster and to answer questions about old or new orders to their customers in no time.
The new implemented system also ensures a more efficient operation. For example, before, orders with suppliers were still made by telephone or fax. Now they get done via e-mail, directly from the system. Jo: "In addition, we now send a confirmation to our customer for every order two days before shipment. In the past, a wrong delivery could cause problems. Now the customer can check for himself whether what we load on our trucks is really what he needs. This gives us a stronger position in case of misunderstandings."
Customers notice the difference and do not hesitate to express their satisfaction with this to Jo:
"The system has certainly also ensured that we come across as more professional to customers and suppliers. Our image in the sector has improved noticeably. And that is a nice bonus."
Jo De Rycke, Manager
Flexibility and better overview
Every step is documented and that information is also mutually linked.
More efficiency
Orders are made through email instead of telephone or fax, and customers can double check and approve their orders beforehand.
Integration
The system is seamlessly integrated with their day-to-day tasks.