Customer: Institute of Tax Advisors & Accountants (ITAA)
Expertise & industry: Audiovisual solutions
Technology: Recording & streaming, repeater screens, lighting
The Institute for Tax Advisors & Accountants (ITAA) ensures that its members have the skills, knowledge, ethics and influence to contribute to successful businesses and a sustainable economy. They connect their members with business owners, governments and society. ITAA represents more than 14.500 members and trainees. In addition, more than 20.000 more white-collar employees work through accredited firms within the accountancy sector.
Following the fact that everything is going to become more and more hybrid, the president of the ITAA came to the idea of making quality recordings – this is how the collaboration with Axians Audiovisual came about. The final installation is multifunctional, it can be used to make recordings and webinars in a simple way so that everyone can operate it themselves. Ultimately, the intention is to record and stream seminars, cameos, blogs, video, etc.
In the future, they want to expand to live webinars with audiences physically present in the room. Because of the pandemic, people are less inclined to travel so the idea is to combine online and offline audiences for panel discussions. Then VIP guests or politicians are regularly invited to sit on the panel and engage in a conversation with moderation.
The room consists of three sections that can be used separately or together via flexible walls. When a large audience is present, the projected image is repeated in the front of the room. In this way, the people in the back of the audience can also follow the presentation well. They can hear the speaker and see the presentation through the repeat screens.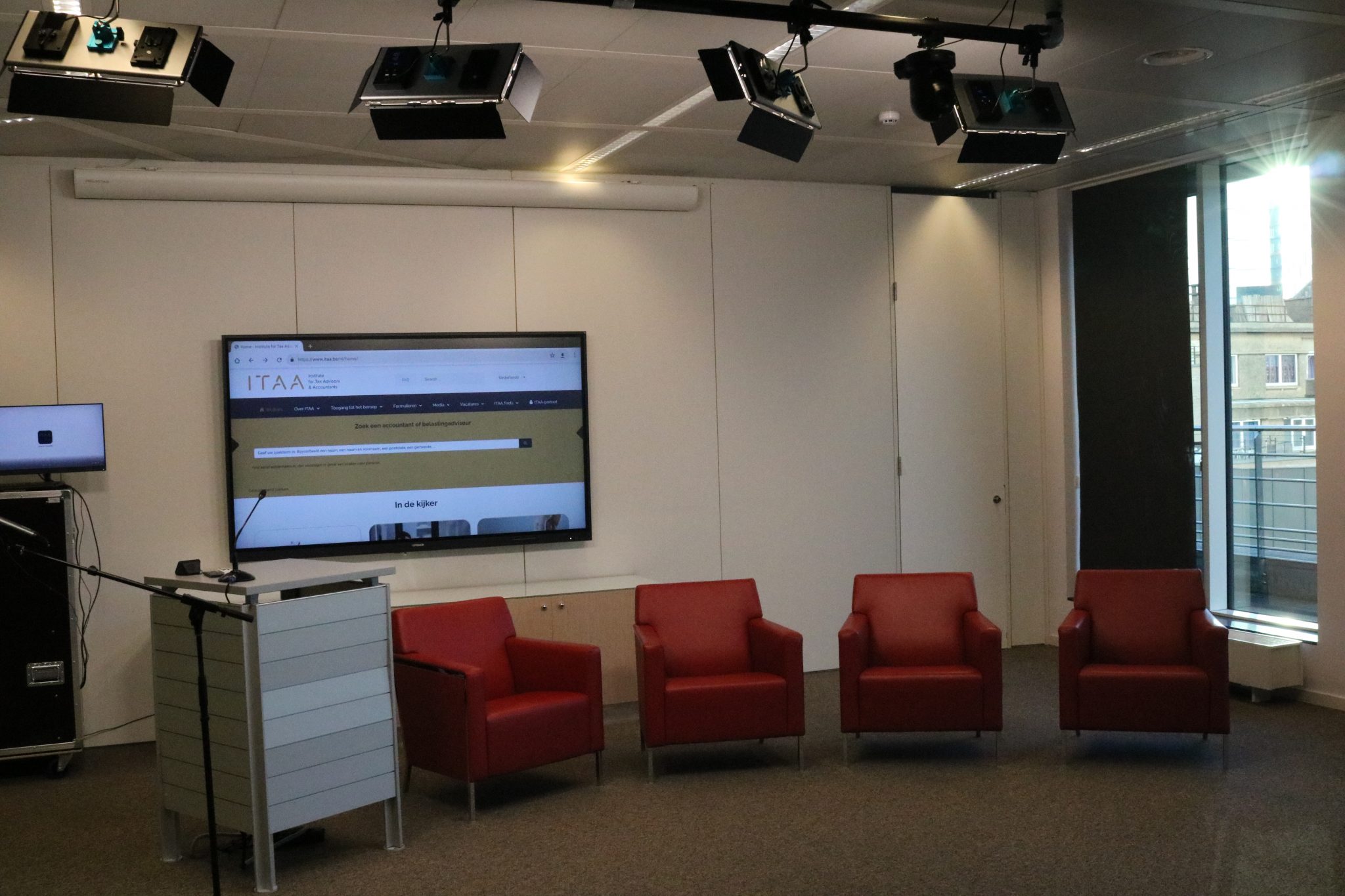 How does it work?
Using the button panel you can choose to record multiple people or a close-up of the speaker – this is used for capsules (= short videos with one speaker). Capsules are recorded with a message on screen and the speaker in the same place. From the moment the recording is stopped, it is automatically saved on the PC. With a wide shot, the whiteboard also comes into view or a presentation can be shown. The speaker can view this presentation on his repeat screen.
There are three cameras in the room, one facing the speaker, one facing the panel and one facing the audience. For optimal image recording, the appropriate lighting is present to illuminate both the speaker and the panel. In addition, there are two handheld microphones, a goose neck on the pupil and a microphone with microphone stand that can be used for questions from the audience. In this way, questions from the audience are also included for the online audience.