"The connection as well as the trust was immediately present in the collaboration with Axians Audiovisual," – Wim Cauwelaers, Supervisor Technical Training at Bosch Thermotechnology
Customer: Bosch  Thermotechnology nv
Expertise & industry: Audiovisual solutions
Technology: Green Key, Recording & Streaming, Videoconferencing
In March of 2020, the pandemic began and suddenly Bosch Thermotechnology needed to switch from classroom training for the brands Bosch and Buderus to a solution they weren't familiar with at the time. Of course, this solution also had to work for the customer. At Bosch Thermotechnology, they are strongly focused on image and audio material, so it was a logical step to collaborate with Axians Audiovisual – a partner they can rely on for camera and sound systems, among other things. 
Invented for life – for Bosch, this is the guiding principle in everything they do. Bosch stands for top quality and reliability. At Bosch, there is continuous investment in research and development to create products that improve the quality of life, inspire and capture the imagination. Bosch Thermotechnology strives for perfect heating solutions that respect nature. This results in innovative, high-quality and easy-to-use appliances characterized by a distinctive design.
After a visit at Axians Audiovisual, they opted for an easily integrated system for their classroom at Bosch Thermotechnology. Because everything had to go over internet cables, they worked with the Vaddio system. Another element of the installation are the ceiling microphones, which are used for meetings and video conferencing. These allow for a flexible arrangement of the furniture.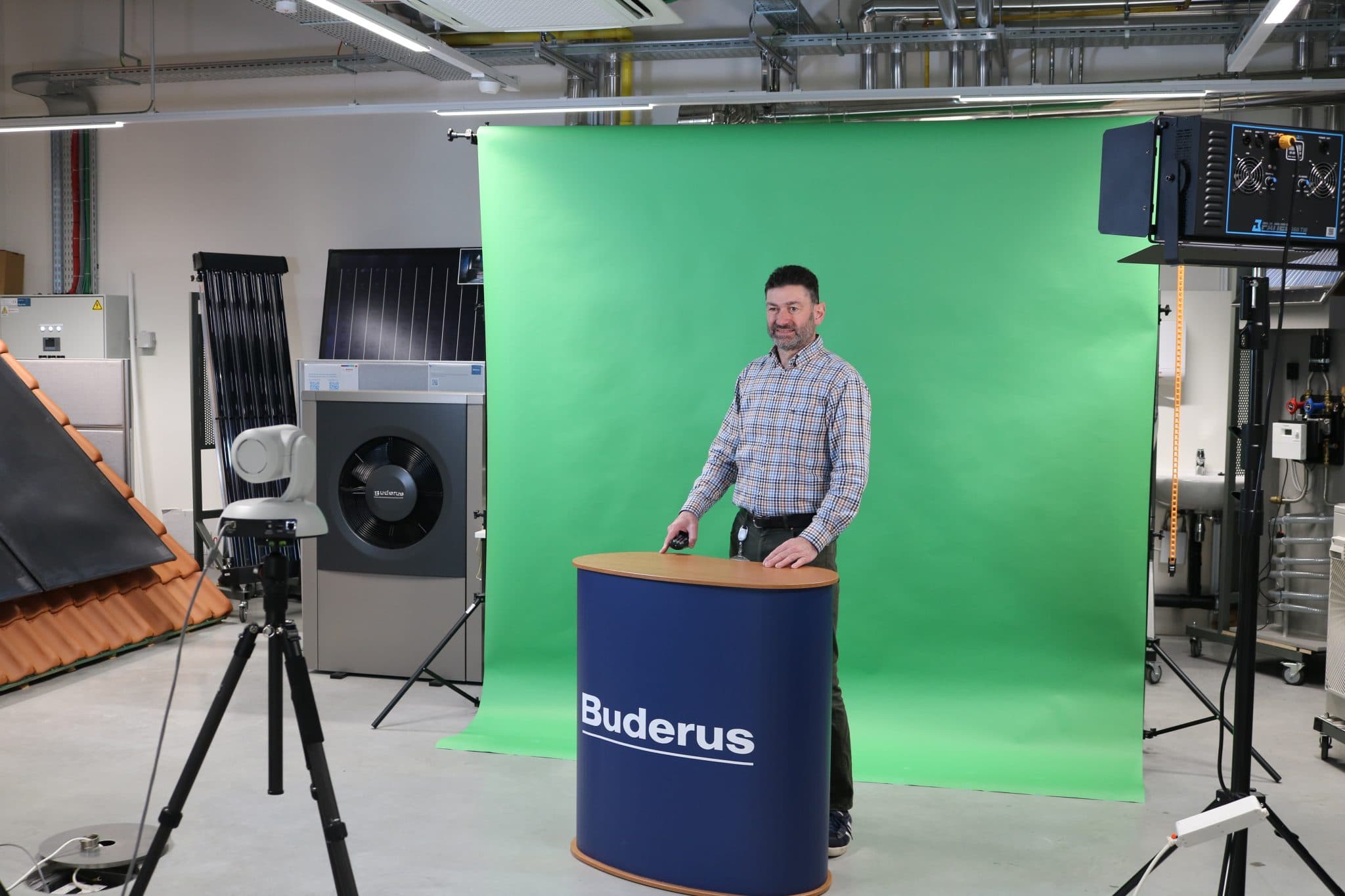 After installing the Vaddio system, the choice for the Green Key system with the necessary lighting followed. Green Key is mainly a solution for the theoretical part but because of the movable cameras, practice can also be added. "The installation provides a high-performance image without shadows, whereby the inside of products can also be zoomed in on and shown sharply for our online training," says Rudy, trainer at Bosch Thermotechnology. Even the colleagues who are not in the training department and have little experience with the cameras are happy with it. At Bosch Thermotechnology, they focus their training on getting a return at the end of the day. The time invested must also pay off for the customer. For this purpose, evaluations are also done to find out what the customers think.
Tip from the AV expert: Record your webinar in pieces so that you don't have to start all over again with an unexpected intervention of ambient noise, for example.
Is your training room also in need of an upgrade? Contact us at sales.audiovisual@axians.com and we will gladly help you with an audiovisual solution tailored to your company.